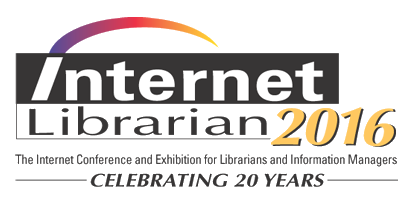 → Discounted registration for Califa Members is available here
Internet Librarian 2016: Bring it on: Act for Impact!
October 17-19, Monterey CA
Internet Librarians have been on the leading edge for 20 years. What makes them different? They are innovative, willing to take risks and try different technologies before they hit the mainstream – they take actions and have an impact on their communities.  They share their experiments and learnings so the information profession as a whole continues to expand, improve their techniques and processes and have a positive impact on their various  communities, whether those communities are college or university campuses, municipalities or counties, hospitals, law firms, governments, organizations or non-profits. Continuous innovation, transformation and excellence are the goals of all Internet Librarians.