Peek-A- Book and BookView

Peek-A-Book is an innovative system that inspires children to explore the library's collection and take full advantage of its resources. Dazzling audio-visual presentations highlight the content of books and reference materials displayed in eye catching interactive kiosks.
Friendly puppet characters guide children through the system's features. Working with major publishers these presentations offer a peek at a story without telling children how it ends.
The goal is to inspire children to read the book. http://www.peek-a-book.net/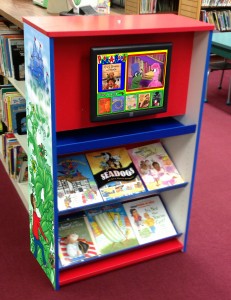 Supporting Materials Grant Narrative
Content Selections
Peek-A-Book_Flier
View Demo (Shockwave Player required)
View Informational Video

Similar to Peek-A-Book, BookView offers a wide selection of the very best teen book previews available. http://www.bookview.info
View BookView_Flier.