The Best Digital Library Resource for Kids Ages 2—6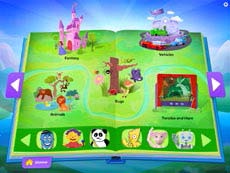 What if every child chose reading over videos and games—not because they have to but because they want to. Speakaboos is the first digital library to focus on unlocking intrinsic motivation in every child. Through our educational and engaging collection of over 200 interactive stories and songs, Speakaboos motivates young children to explore their interests and read more, creating a lifelong love of learning.
Every aspect of Speakaboos content and product design is anchored in fundamental principles of literacy development and the child's point of view. Speakaboos educational methodology is based on the research results of the National Reading Panel and other literacy experts, including the acclaimed research of Dr. Alice Wilder (Blue's Clues,SuperWHY!), our Chief Content Officer.
Speakaboos is designed around the five pillars of intrinsic motivation:
Interest - Catalog curated around characters, themes, holidays and topics align with a child's interest
Engagement - The smart combination of storytelling and technology create an engaging,interactive story experience
Context - Highlighted text, narration, and animation support comprehension and lead to enjoyment
Mastery - Speakaboos stories have multiple reading scaffolds for children of different reading levels
Autonomy/Independence - Children as young as two years old can use the platform on the web, tablet,or mobile phones
By helping kids love and choose reading, Speakaboos opens up all the library's resources to further learning and discovery.
For library sales information, please contact our library representative Jay Rappoport at jay@speakaboos.com.