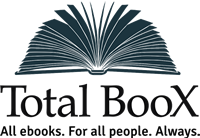 Total Boox: All ebooks. For all readers. At all times.
Total Boox provides libraries with a revolutionary new ebook service. Your patrons get access to 100,000 high quality ebooks from reputable publishers, such as O'Reilly, Workman, Sourcebooks, and Elsevier, among many others. Your library pays only for actual reading. This empowers you to give patrons a truly outstanding service while controlling costs. Our library customers are paying only pennies per population served.
Join libraries from New York and Connecticut to Colorado and Texas that are already wowing their patrons.
No waiting lists—unlimited simultaneous access to every book.
Never pay for books that no one reads—pay only for content that has been read.
Pay only pennies per population served.
No unhappy patrons—instant gratification is guaranteed to all readers.
MARC records at no cost to library guarantee solid patron usage. Click-through downloads via OPAC keep patron in the library space.
500+ ebooks with audio for ELLs from Oxford University Press.
Thousands of JNF books for homework support from Lerner, Child's World, etc.
Beautiful apps with 1-click downloads.