Califa Group, in partnership with the Marin County Free Library and Santa Monica Public Library, received a grant from the California State Library for CREI Initiative: California Libraries Cultivating Racial Equity and Inclusion Initiative to be implemented in FY 2020-2021.
This was a one-year grant process for public library cohorts throughout the State of CA to participate in an immersive process, designed specifically for government organizations to infuse a race and equity focus into organizational outcomes and service deliver through evidence-based shifts in operations, processes and policies.
The CREI Initiative's broad goal at the end of the year was to catalyze a statewide network of libraries and library staff committed to racial equity and full inclusion for all to share information and deepen conversations as well as actions to grow racial equity in library service delivery and the communities that we serve.
During FY 2020-2021, library jurisdictions were selected and received funding support to participate in the CREI Initiative. Library jurisdictions met the following objectives during through participation in CREI.
Renewed and built skills and expertise to promote inclusion and racial equity through library programming
Strengthened skills to implement community needs assessment, deepen patron centered services delivery efforts, and engage community stakeholders in building equity at the community level
Supported diversity and inclusion in the library workplace that grows diverse and sustainable leadership at the highest level of each library organization
Gained understanding of the role of government and libraries in relation to racial equity
Developed skills using the Racial Analysis Equity Tool including definitions of terminology and data
Drafted a Racial Equity Action Plan and mentoring to organize the internal infrastructure to implement it
CREI offered participating library jurisdictions opportunities to: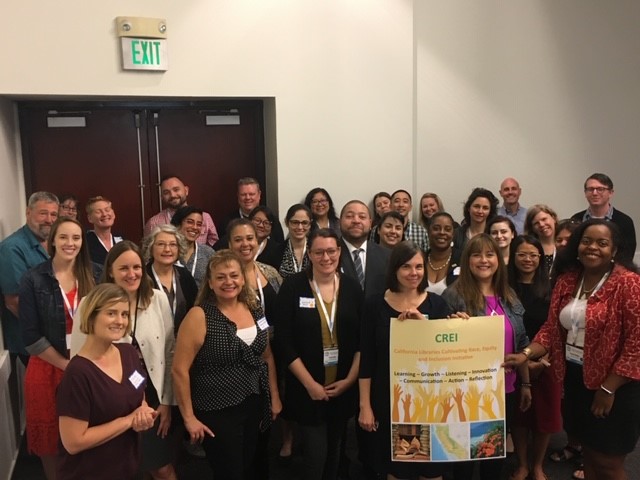 19-20 CREI Cohort posing with the CREI poster.
Cultivate Staff
Library jurisdictions participating in the CREI Initiative committed a team of two (2) to five (5) colleagues to participate in trainings and gatherings throughout the year.
Jurisdictions from Northern CA, Central CA and Southern CA regions participated in their second year or CREI and 10 libraries were selected to participate in their first year of CREI.
Skills building/renewal and support
Three, Two-day trainings were held digitally for Northern, Central and Southern CA.
One Network Meeting held digitally.
Up to $5,000 used to cover staff participation. This included travel, lodging, per diem meals, and backfill of staff as needed.
Mentorship to develop a Core Team and Action Plan Library teams will be sharing their work in a short presentation for their colleagues during the Network Meeting.
Library teams engaged in an LSTA-based evaluation process
Jurisdictional resources developed for ongoing implementation
Racial Equity Action Plan
Vision Statement and Feedback Mechanism for Cultivating Racial Equity in Libraries 
Year 2 /Returning CREI Libraries – Deepening Stage
began supported/mentored implementation of their Racial Equity Action Plan
participated in a train-the-trainer series to help Group A participant's train staff in the library system to use a racial equity framework
increased in staff awareness and ability to implement equity and inclusion strategies
provided leadership in the Regional Cooperatives to grow the statewide commitment and network of libraries committed to racial equity
Year 1 / New CREI Libraries – Creating Stage
built and strengthened staff skills to apply a racial equity framework to library service, internal and external, through 6 full-day cross-jurisdictional learning sessions; internal jurisdiction meetings; mentoring; and, webinars
assessed their organizations to determine opportunities to grow racial equity using a racial equity tool developed by the Government Alliance on Race and Equity
drafted action plans for each jurisdiction to promote racial equity and inclusion
joined the growing the statewide network of libraries and library staff committed to racial equity and inclusion for all
engaged with mentors support the cohorts from each jurisdiction and each jurisdiction's director
accessed new tools that cultivate racial equity and full inclusion within libraries
For more email about the CREI program, please email crei@marincounty.org.